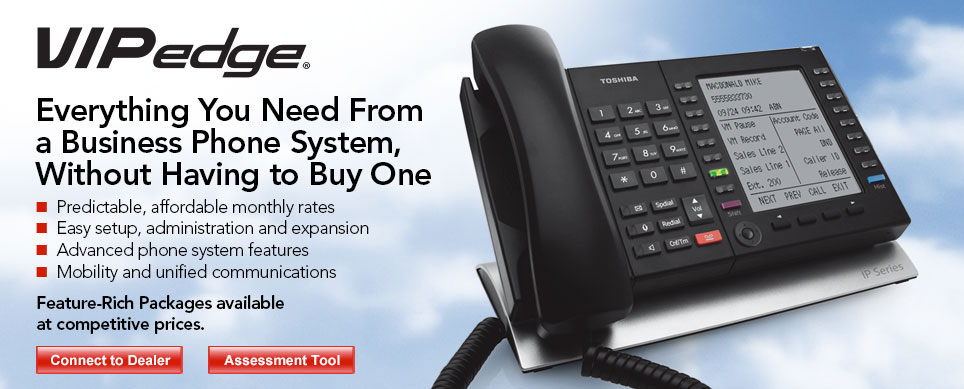 Toshiba's VIPedge Cloud-Based Telephone Solution
Pure IP communications on a monthly, pay-as-you-go basis
Is your small to medium-sized business (SMB) looking to upgrade an analog or digital business phone system to gain the advantages of IP?
Does your organization have big potential but limited capital, and need to compete with much larger companies and project an enterprise-class image?
Do you want to manage communications costs as a predictable monthly operating expense instead of an upfront capital acquisition cost?
If you said "yes" to any of these questions, the hottest trend in SMB communications is made for you.
It is cloud-based voice over IP (VoIP) service. You get the benefits of modern IP business communications without having to buy, install or maintain an on-site phone system. Toshiba's cloud-based business telephone offering is the award-winning VIPedge solution. With VIPedge, you get the functionality of our on-premise IPedge® phone system, but instead of buying or leasing the server, you simply pay an affordable monthly service fee based on size and usage. Pay only for what you need today, and expand on demand as your business grows.There's no need to worry about powering, maintaining or updating the phone system server. Toshiba takes care of all that. Just answer the phone and run the business.
Get the Edge in Unified Communications
Toshiba's VIPedge cloud-based business telephone solution is designed for organizations needing robust communication features without having to own and maintain an onsite telephone system.  Let Toshiba manage your system; all you have to do is answer your phone calls utilizing all the unified communication applications your business needs.
A Cloud Solution Like No Other
Backed by Toshiba's industry-leading quality and reliability.
Designed and implemented by ATC Voice Data, an authorized Dealer and certified service specialist
to meet your specific business needs.
Comprehensive Capabilities at Your Fingertips
Complete business telephone features.
Voicemail with unified messaging.
Call Manager unified communications with presence, Toshiba endpoint call control from your
PC and Instant Messaging (IM)
Mobility solutions including find-me call routing
And much more
All the Advantages without Having to Purchase a Telephone System
The VIPedge cloud-based business telephone solution provides industry-leading, feature-rich functionality based upon the on-premise Toshiba IPedge businesss telephone system architecture.
VIPedge supports many of the same high-quality Toshiba endpoint devices as the IPedge, including Toshiba's IP5000 series desk telephones and IP4100 series wireless telephones.
VIPedge offers an alternative to buying a telephone system.  Customers pay a monthly service fee, based upon size and usage, instead of purchasing or leasing a telephone system.
For more information or to request a free quote