TOSHIBA TELEPHONE SYSTEMS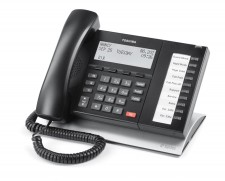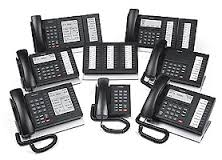 Communications Your Way
Strata CIX40 is versatile and scalable to meet the dynamic needs of small locations with up to 20 users, depending on your networking requirements.  Use it as a single-site phone system, and expand as the business grows.  Or use it at branch locations, networked with Strata CIX and Toshiba IPedge pure-IP systems at other locations and headquarters.
Strata CIX 40 can serve an all-IP communication system, or all-digital, or a mix of IP and digital phones to meet your needs.  Migrate to IP on your own schedule.
Sized Right for Small Business Locations
Right out of the box, Strata CIX40 supports:
8, 16, or 24 IP channels for IP telephone connections, SIP trunking and/or networking Strata CIX systems.
4-11 trunks with caller ID, 8-16 digital telephones and 1-2 analog endpoints.
4, 6, or 8 ports of voice mail and auto-attendant with live message call monitoring, LCD feature prompting, soft keys, call recording and more.
Supports 4-11 trunks or 8-40 voice endpoints depending on the configuration
Everything you need to support this capacity, including optional voice mail. fits into one compact cabinet designed for wall mounting.
Add advanced applications on the IPedge Application Server as needed, to support:
Unified messaging – Voice mails, emails and fax messages in your email inbox
Unified communications – Blending the many ways you communicate
Contact center automatic call distribution (ACD) and reporting
Integration with customer relationship management (CRM) systems
Web-basked personal and system administration
Customized feature operations, and more
All of these applications come in one slim chasis.
CIX670 supports up to 264 trunks or 560 voice endpoints and combinations up to 672 total.
Your voice communications system is one of your biggest assets, with the power to attract customers, enhance the image projected to your customers, save money, increase productivity, and improve customer satisfaction.  This is why so many leading companies choose Toshiba. Toshiba's IP communication solutions are designed to drive business process integration and unified communications to create value, efficiency, and maximize your return on investment.